For the past six to seven years of conducting Bullet Journaling introductory workshops, my lesson has always been kept concise - explaining the Bullet Journaling concepts, sharing my personal tips and recommendations, and showing examples through my actual Bullet Journals over the years.
​
The workshop ends with a short hands-on session for learners to start planning their setup in their new Leuchtturm1917 notebook, the same notebook that I have been using as my Bullet Journals. Learners can continue setting up the rest of their Bullet Journals at their own pace, at their preferred environment, and with their own resources. This can be intimidating and discouraging when learners try to set up alone, but I recognise that there is limitations during the duration of the workshop.
Bullet Journaling combines scheduling + art journaling!
Bullet Journaling is known for its ability to help people organise their thoughts and keep track of their goals, tasks and schedules. Join Steph T (@stephtcreates) in an immersive Bullet Journaling bootcamp, where she guide you through a step-by-step process to start your very own Bullet Journal, as a way to bring mindfulness, productivity and creativity into journaling.
​
Why attend a bootcamp?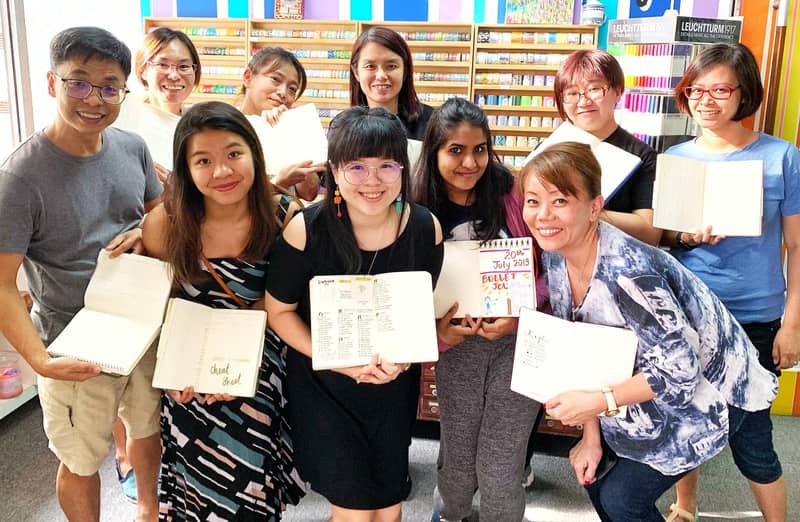 • In our typical 2-hour Essentials of Bullet Journaling workshop, we cover the various components of a Bullet Journal with a range of inspiring layouts and participants are able to view Steph's past Bullet Journals for exploration of different layouts, before planning the setup of their own Bullet Journal. As this is a crash course that is heavily focused on the theoretical aspects of Bullet Journaling, participants will be equipped with knowledge and to develop a plan to set up their Bullet Journal at their own pace post-workshop.
​
• In this half-day intensive bootcamp, we will be focusing on BOTH the theoretical and application-based aspects of Bullet Journaling. Participants will be guided through a variety of hands-on activities, which will allow them to actively learn and apply key concepts at every stage of the Bullet Journal setup. Participants have the opportunity to be confident and creative in setting up the pages in a blank Bullet Journal, as well as receive support and feedback from facilitators and peers throughout the bootcamp.
​
Most importantly.. By the end of the bootcamp, participants should have most, if not all, pages of their Bullet Journal ready to start 2024!
​
Topics covered:
The different components that are used in a Bullet Journal

Key concepts and applications of Bullet Journaling

Suitable tools and materials to start a Bullet Journal

A series of step-by-step of hands-on exercises to set up your Bullet Journal

How to organise your Bullet Journal in a way that works for you

Sustainable journaling that is effective for personal use in the long-term
​
Materials included:
Each participant will take home materials worth more than SGD65 - a Black Leuchtturm1917 A5 Hard Cover Dotted Notebook (other colours are subject to availability), a Sakura Manga Set (six essential pens for visual journaling) and a Highlighter set. There will be a variety of sharing materials for learners to use as well.
​
This half-day bootcamp will be held in person over four to five hours. It is open to anyone aged 16 and above with no experience in Bullet Journaling. Our past Bullet Journaling alumni are welcome to join us in this bootcamp as a refresher course.
​
Join this waitlist to receive an exclusive promotional rate during our announcement of the 2024 Bullet Journal setup bootcamp!
​
Xoxo,
StephT